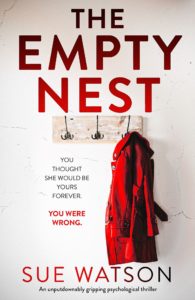 Kat remembers the days when her only daughter Amy wouldn't leave her side. Amy was the baby who cried when you walked out of the room, the toddler who was too shy to speak to strangers, the small child who clung to Kat's legs in the school playground.

But now Amy is grown up, and Amy is gone – to university in a town several hours away. Kat's house – which once felt too full, too noisy, too busy – is deathly quiet, and Kat awaits the daily phone call to tell her that her beloved daughter is thriving and happy.

But one day Amy doesn't call. Kat's husband and friends think she is being paranoid – surely Amy is just out, having fun with her friends. But Kat knows right away that something is very wrong. Her daughter would never forget to call. She would never just disappear… After all, Amy has nothing to run from. Or does she?
Well! This was just full of storylines that I didn't see coming. I've seen reviews that describe this book as not being so much of a psychological thriller… well…..All I can say is, what's not psychological about this?! It's a slow-paced mystery – engaging – twisted – and full of secrets. There's hope, then hope is whipped away – it's one of those books where you can't be certain that there will be a happy ending. And was there…?