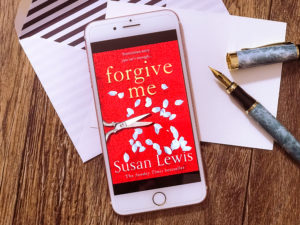 My thoughts…
Restorative Justice is a concept that can still be considered a little 'taboo' even in today's society. Susan Lewis has taken the practice of Restorative Justice and given it a brilliant airing in a fictional setting to highlight its importance and usefulness in the criminal justice system for both victims and offenders. For that reason, I would highly recommend this book for anyone wishing to explore more about the practice and understand how it works. I would however stress that this is fiction – and has been dramatised to make for an entertaining and gripping read. Susan Lewis does well to highlight this as well, by carefully outlining how the outcomes achieved in this book are rare, in the real world. Susan also explores forgiveness as a very powerful tool in moving forwards as a victim of crime and highlights how it can empower victims as much as help offenders too.
Having worked on a Restorative Justice programme myself in the past, there were a few points within this book that made me cringe. Firstly, Dan seeing someone he knew in the pub and disclosing to Claudia that it was a person on the Restorative Justice programme… That should not happen – such disclosure is a breach of confidentiality – and Dan is portrayed as a strong character and advocate for doing the right thing. So it's an out of character and careless disclosure too.
Secondly, Maria's portrayal is a little unfair. Yes she has a learning difficulty or disability – from the way she is described. However misspelling words when she speaks to highlight a speech impediment and difficulty with words is not necessary. You can portray someone's dialect or way of talking quite easily with a few descriptive words after their speech marks have closed and with a brief background of the character when we first meet them. I'm sure other characters in the book would have had different accents but the Author did not choose to misspell words to indicate their speech.
Without going into spoilers (and the bits that I've covered already are clearly outlined in the blurb and/or title of the book) I would have liked to see the serious theme of forgiveness further explored when it came to Claudia and her daughter – but perhaps that's a whole other book!
Overall, A Susan Lewis book means that you'll read a carefully researched domestic drama with care and time taken into the finer details to bring you facts just as much as fiction. Aside from the little bits that made me cringe which could have been editing omissions (and personal preference) this was a firm four star read for me and I look forward to seeing what societal concept Susan Lewis tackles next.
Hopefully the published version of this book will include some useful information about Restorative Justice. As a concept and practice victims reading this book might find it hard and at times painful to understand how it works. Therefore I've also included some useful links below for anyone who might be interested in reading more.
UK CPS Restorative Justice Information |What Is Restorative Justice? |  Victim Support | Why Me?
About the book…
I can't forgive myself. Not after what I did.  Could you?
This is Claudia Winters's last chance for a fresh start. Changing her name and leaving her old life behind, she has fled to the small town of Kesterly with her mother and daughter. Here, she hopes they can be safe for the first time in years.
But the past can't stay hidden forever. And even as Claudia makes new friends and builds a new life, she can't help feeling it's all about to catch up with her… Until one disastrous night changes everything forever.
Tense, emotional and gripping, Susan Lewis's latest novel is a spellbinding story of love, family, and the price of forgiveness.
Genre: Domestic Drama
Publication: November 2020

About the author…
Susan Lewis is the bestselling author of over forty books across the genres of family drama, thriller, suspense and crime. She is also the author of Just One More Day and One Day at a Time, the moving memoirs of her childhood in Bristol during the 1960s. Following periods of living in Los Angeles and the South of France, she currently lives in Gloucestershire with her husband James, stepsons Michael and Luke, and mischievous dogs Coco and Lulu.
Connect with the Author…
Facebook | Twitter | Instagram | Website
Thanks to NetGalley and the publisher and author for a copy of this book in exchange for my honest review.