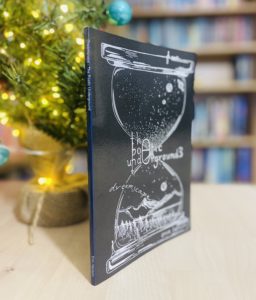 My thoughts…
What a truly wonderful collection of poetry from Erin Hanson! I absolutely loved revisiting some of her more well known pieces as well as ones I'd never read before. Erin puts into words what so many of us can't, and I use some of her writing regularly to try and explain what I mean or am feeling. This is such a great book and a wonderful gift to receive.

About the Book…
Dreamscape is a collection of poems written from November 2015 to March 2016. Poems included come from thepoeticunderground.com as well as some never before published online. All poems are written by Erin Hanson and all illustrations are by Aimee Hanson
Genre: Poetry
Publication: 2016

About the Author…
Erin Hanson is a 26-year-old poet who was born on the 22nd of June 1995 in Brisbane, Australia. She rose to fame for her beautiful poetry. It all started with a blog, a small dream, and a keen desire for expression. Erin started a blog when she was 11 and started taking the blog more seriously in the year 2011. She wrote poetry and posted it there for the sole purpose that she liked doing so and this pure intention reflected in her work. The power of her verses got a lot of attraction to her blog.
Connect with the Author…
 | Instagram |
Are you looking for a Bookish environment to talk all things books? Then look no further than The Fiction Cafe – don't forget to answer the membership questions in order to join. We welcome Authors and Readers and there are lots of exciting happenings in the group! Our Book of the Month Read A Longs happen there too.