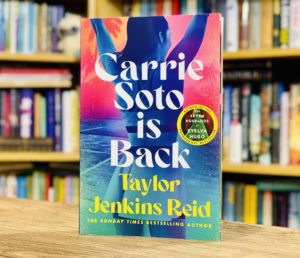 I didn't think I needed a whole book about Carrie Soto. How wrong was I. We're introduced to Carrie in Malibu Rising and she's not written for us to like her. If you're expecting to like her in Carrie Soto is Back, well, you'll be disappointed. At least at the start. But she grows on you.
You're not revisiting the world of Malibu Rising to see what everyone is getting up to and what's happened since That Night. You're visiting Carrie's world, an era of rising and falling. Triumph and challenges. Romance? A little. Heartbreak? Some. I think what I loved most about this book, aside from it's Taylor Jenkins Reid and I love her writing style, is that it has a little of most things.
You don't have to have read Malibu Rising, you don't need to be in love with Tennis, you just need to love books and reading and a story and this will be perfect for you.
About the Book…
Carrie Soto is fierce, and her determination to win at any cost has not made her popular.
By the time Carrie retires from tennis, she is the best player the world has ever seen. She has shattered every record and claimed twenty Slam titles. And if you ask her, she is entitled to every one. She sacrificed nearly everything to become the best, with her father as her coach.
But six years after her retirement, Carrie finds herself sitting in the stands of the 1994 US Open, watching her record be taken from her by a brutal, stunning, British player named Nicki Chan.
At thirty-seven years old, Carrie makes the monumental decision to come out of retirement and be coached by her father for one last year in an attempt to reclaim her record. Even if the sports media says that they never liked the 'Battle-Axe' anyway. Even if her body doesn't move as fast as it did. And even if it means swallowing her pride to train with a man she once almost opened her heart to: Bowe Huntley. Like her, he has something to prove before he gives up the game forever.
In spite of it all: Carrie Soto is back, for one epic final season. In this riveting and unforgettable novel, Taylor Jenkins Reid tells a story about the cost of greatness and a legendary athlete attempting a comeback.
Genre: Contemporary Fiction
Publication: 30th August 2022

About the Author…
Taylor Jenkins Reid is the author of the New York Times Bestselling novels Malibu Rising, Daisy Jones and the Six, and The Seven Husbands of Evelyn Hugo, as well as One True Loves, Maybe in Another Life, After I Do, and Forever, Interrupted. She lives in Los Angeles.
Connect with the Author…
Facebook | Twitter | Instagram | Website
Thanks to the publisher and author for an advanced copy of this book.
Are you looking for a Bookish environment to talk all things books? Then look no further than The Fiction Cafe – don't forget to answer the membership questions in order to join. We welcome Authors and Readers and there are lots of exciting happenings in the group!