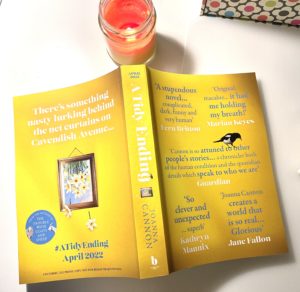 What a book! I had inklings of what was coming as I read it but nothing prepared me for the exact unravelling that occurred. It was brilliantly written and Joanna Cannon's experience, knowledge and creativity with words really shone through. It's one of those books where you get to the end and want to go back and read it all over again with the new knowledge that you have. Shocker!
It's impossible to do this book justice in a review without giving away some key plot twists and points of the book so just rest assured that you really do need to read this for yourself and find out exactly what I mean… Do it!
About the Book…
From the bestselling author of The Trouble with Goats and Sheep and Three Things About Elsie, a delightfully sinister novel about a married woman living a nice, quiet suburban life—but things aren't always what they seem…
Linda has lived in a quiet neighborhood since fleeing the dark events of her childhood in Wales. Now she sits in her kitchen, wondering if this is all there is: pushing the vacuum around and cooking fish sticks for dinner, a far cry from the glamorous lifestyle she sees in the glossy magazines coming through the mail slot addressed to the previous occupant, Rebecca.
Linda's husband Terry isn't perfect—he picks his teeth, tracks dirt through the house, and spends most of his time in front of the TV. But that seems fairly standard—until he starts keeping odd hours at work, at around the same time young women in the town start to go missing.
If only Linda could track down and befriend Rebecca, maybe some of that enviable lifestyle would rub off on her and she wouldn't have to worry about what Terry is up to. But the grass isn't always greener and you can't change who you really are. And some secrets can't stay buried forever…
Genre: Contemporary Fiction / Mystery
Publication: April 28th 2022

About the Author…
Joanna Cannon is the author of the Sunday Times bestselling debut novel The Trouble with Goats and Sheep, which has sold over 250,000 copies in the UK alone and has been published in 15 countries. The novel was longlisted for the Desmond Elliott Prize, shortlisted for The Bookseller Industry Awards 2017 and won the 2016 BAMB Reader Award. Joanna left school at fifteen with one O-level and worked her way through many different jobs – barmaid, kennel maid, pizza delivery expert – before returning to school in her thirties and qualifying as a doctor. Her work as a psychiatrist and interest in people on the fringes of society continue to inspire her writing, and Joanna currently volunteers for Arts for Health, an organisation bringing creative arts to NHS staff and patients. She lives in the Peak District with her family and her dog.
Connect with the Author…
Thanks to the publisher and author for a copy of this book.
Are you looking for a Bookish environment to talk all things books? Then look no further than The Fiction Cafe – don't forget to answer the membership questions in order to join. We welcome Authors and Readers and there are lots of exciting happenings in the group! Our Book of the Month Read A Longs happen there too.