My thoughts…
When there's a new Kirsty Greenwood book out you just know that you will be able to switch off from the world for a while and immerse yourself in someone else's drama and dilemmas. This book is absolutely perfect for that! Additionally you will be transported from a rather wet, rainy and dark England to sunnier climates.
Kirsty's characters are always refreshingly honest, open and…well…normal. I really loved meeting Nora and Gary and all of the attached friends and family that came with them. The storyline sounds predictable…but far from it. There are some brilliant moments from laugh out loud to devastatingly emotional scenes. Twists, reveals and so much more. You will not regret picking up this book and switching off from the world!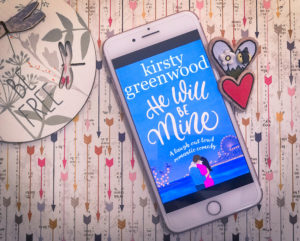 About the book…
Nora Tucker is an admin assistant from a tiny English village. Gary Montgomery is Hollywood's hottest new star. After seeing him on the silver screen, Nora believes that Gary is her soulmate, her one true love, the man she's supposed to grow old and wrinkly with. She knows it sounds nuts, she knows it's completely crazy. But sometimes love is crazy, right?
Only… how on earth is this Plain Jane introvert supposed to get to Los Angeles, infiltrate Gary's inner circle AND convince him that they're meant to be? Throwing herself into this mission might be a tall order but it means Nora can stop thinking about that one awful day, two years ago, when everything in her life fell apart…With the help of a sunny Californian weather girl, a super hot but super grumpy script writer, and a very passionate Adam Levine tribute act, Nora is about to try the impossible and let fate decide her future…
Genre: Contemporary Fiction & Romance
Publication: 2nd November Paperback £10.99 & 10th November Kindle £1.99 current deal.

About the author…
Kirsty Greenwood is a top ten bestselling author of funny, fearless and fast-paced romantic comedies about extraordinary love.
When she's not writing books she composes musicals, cooks new recipes with varying success, walks the blustery hills where she lives, buys too much glittery eyeshadow, sings to her dog, kisses her husband and reads all of the books she can get her grabby hands on.
If you want to find out about Kirsty's new releases and discounted books you can sign up to the newsletter by copying and pasting this web address: http://bit.ly/2pe1XuP
Connect with the Author…
Facebook | Twitter | Instagram | Website | Kirsty Greenwood's Literary Darlings