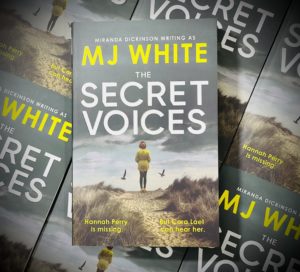 There's a new favourite Crime Thriller Author to move straight to the top of my list! This is book one (yes, there will be more!) in a new crime thriller series from author MJ White, aka much loved, bestselling romantic novelist, Miranda Dickinson. If you're like me, and feel slightly worried when an Author steps into another genre, fear not! This is very firmly, 100%, absolutely brilliant. It has everything that we know and love Miranda for (yes, even a little hint of a romance…!) with the added elements of suspense and 'fighting for your life' tension rather than 'will they or won't they…?!'
Dr Cora Lael, a psychologist with the ability to pick up on emotions, feelings, and even voices on discarded items that people have touched, is going to be a firm favourite in the crime/thriller world as this series progresses. And yes, I was sceptical if I'm honest, but MJ White has such a way with words that all that falls away and complete immersion in the mystery takes over.
So, if you're between Miranda Dickinson's books, eagerly awaiting her next contemporary publication, step sideways into a different genre and read this one. You'll find everything you love about Miranda's writing, and so much more.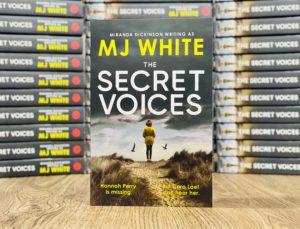 About the Book…
When eight-year-old Hannah Perry goes missing in the small Suffolk village of St Just, the community is rocked. Heading up the investigation is Acting DS Rob Minshull, but he's out of his depth in a case that seems to mirror the disappearance of a young boy, seven years ago. That search ended in unimaginable tragedy…and Minshull is praying that history won't be repeated.
But with an investigation full of dead ends, and a kidnapper taunting the police with sinister deliveries of Hannah's belongings and cryptic notes, the young girl's life hangs perilously in danger.
Until Dr Cora Lael enters the picture. A psychologist with a unique ability, Cora's rare gift allows her to sense emotions attached to discarded objects. When she is shown the first of Hannah's belongings, she hears the child's piercing scream.
With few leads on the case, could Cora prove Hannah's only hope? And as time runs out, can they find Hannah before history repeats itself…?
Genre: Crime Thriller
Publication: April 2022

About the Book Box…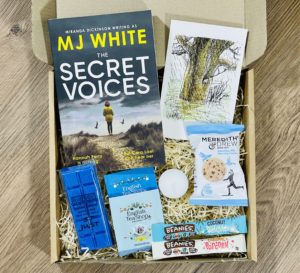 You can order a signed edition of the book from us here at Tea Leaves and Reads – either in a box of treats or on its own. We've put together a themed box in celebration of this brilliant crime thriller and whilst stocks last you'll be able to get your hands on a custom created scented wax melt bar and a few other little touches too! You can order your book or book in a box here.
About the Author…
Miranda Dickinson is a Sunday Times Bestselling novelist (six times!!). Her first novel, Fairytale of New York was discovered on Authonomy.com and went on to sell over 108,000 copies, become a bestseller in Germany and Turkey and was nominated for the RNA Novel of the Year award 2010. Miranda Dickinson has always had a head full of stories. Coming from a creative family where stories and songs were always present, it was perhaps inevitable that she would end up adoring words. A songwriter for over 15 years, Miranda has successfully penned over thirty songs, delivering both live and recorded performances in a range of venues across the UK and Europe. This is Miranda's first Crime Thriller with Hera Books and she is writing as MJ White.
Connect with the Author…