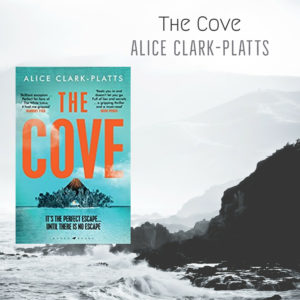 I absolutely love Alice Clark-Platts writing style and her books always hook me. However this was a slow burner and it felt that the point of the book was quite rushed in towards the end. I didn't like the characters (but this is often the sign of a good book of course!) but on this occasion felt it was because they weren't built up enough. I wasn't invested in the friendship and had to keep reminding myself of how long the couples had known each other and what their connection was. I didn't care about them. And in a good thriller you need to care if they live or die. That was the missing bit for me.
That isn't to say I wouldn't read more of Alice's writing and this was a good read in terms of a plot, a mystery and tension. The Island setting was well-described and the scene was perfect. I don't regret finishing it and I would give this three stars when measuring it against Alice's other publications.
About the Book…
Welcome to Turtle Cove.
A luxury resort surrounded by pristine sea and the dense beauty of the jungle, it is the perfect escape from the stresses of life and work. For couples Lou and Adam, Eliza and Noah, a few days spent relaxing on the beach, while their kids are happily distracted, is exactly what they need.
But appearances can be deceiving.
There's a strange tension brewing at the resort, with relations between the hotel and the locals threatening to spill over into violence. This is nothing though compared to the strained atmosphere between the two families. They haven't been friends for long and they are starting to realise they don't really know each other at all.
Except for one of them. One of them knows another very well.
And they have a score to settle.
This is a first-class, escapist thriller for fans of The Sanatorium, The Hunting Party and The Castaways.
Genre: Thriller/Mystery
Publication: 1st March 2022

About the Author…
Alice Clark-Platts is the author of The Flower Girls, The Taken and Bitter Fruits. The Taken was short-listed for the Best Police Procedural in the Dead Good Awards 2017. Alice's short stories have been published in numerous works. Her latest, Lost Boy, was featured in Deadlier, edited by Sophie Hannah. Alice lives in Singapore with her family.
Connect with the Author…
Facebook | Twitter | Instagram | Website
Thanks to NetGalley and the publisher and author for a gifted copy of this book.
Are you looking for a Bookish environment to talk all things books? Then look no further than The Fiction Cafe – don't forget to answer the membership questions in order to join. We welcome Authors and Readers and there are lots of exciting happenings in the group! Our Book of the Month Read A Longs happen there too.