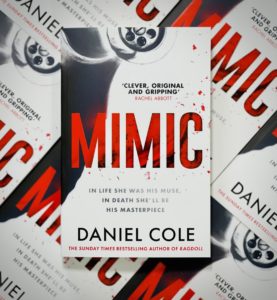 Daniel Cole is a crime thriller writer all of his own style and that really makes his books unique, gripping and completely enjoyable. Enjoyable, despite the fact that they are quite chilling and twisted!
Mimic is a balance of theatrics, making this a very cinematic read, with humour and underlying tension. It was great to revisit a lesser known character from the Ragdoll series too, but this was very much a standalone that doesn't require you needing to have read other books by Daniel. But the Ragdoll Series is absolutely brilliant too.
This is a book that will have you astounded, shocked and laughing, all in equal measures. Plus you'll likely have the urge to research some of the happenings because Daniel introduces some fascinating elements in his books – and in locations that might be familiar to some.
We had the fantastic opportunity of asking Daniel lots of questions about this at our recent book club – and it was really interesting to hear more about the book and writing process. We can't wait to see what Daniel's next book brings!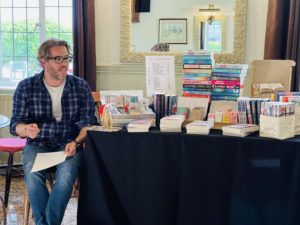 About the Book…
In life she was his muse…
In death she'll be his masterpiece
1989. DS Benjamin Chambers and DC Adam Winters are on the trail of a serial killer with a twisted passion for recreating the world's greatest works of art through the bodies of his victims. After Chambers nearly loses his life, the case goes cold due to lack of evidence. The killer lies dormant, his collection unfinished.
Seven years later.
DS Marshall has excelled through the ranks of the Metropolitan Police Service, despite being haunted by the case that defined her teenage years. She obtains new evidence and joins Chambers and Winters to reopen the case. However, their resurrected investigation brings about a fresh reign of terror, the team treading a fine line between justice and vigilante in pursuit of a monster far more dangerous and intelligent than any of them had anticipated.
Genre: Crime Thriller
Publication: Paperback April 2022

About the Author…
Daniel Cole has worked as a paramedic, an RSPCA officer and most recently for the RNLI, driven by an intrinsic need to save people or perhaps just a guilty conscience about the number of characters he kills off in his writing. He currently lives in sunny Bournemouth and can usually be found down the beach when he ought to be writing. Daniel's debut novel Ragdoll was a Sunday Times bestseller and has been published in almost forty countries and is now a TV Series. Daniel's latest Thriller – Mimic – is a standalone book returning to a lesser known character from the Ragdoll series.
Connect with the Author…
Facebook | Twitter | Instagram