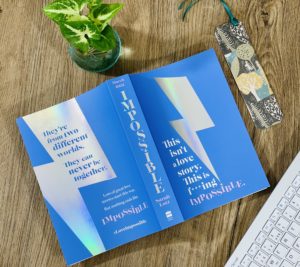 You will remember exactly where you were when you started reading this book. You'll remember exactly how it made you feel. This book is extraordinary and it will become something that's talked about…forever.
The defining genre can't really be pinpointed because it will give away (one) of the bits that takes your breath away. That moment when you actually say out loud, 'WTF?' What the actual… and you'll instantly find the nearest person that you can and rehash the plot in a hurried voice, trying to make them understand exactly what you just read. You'll implore them to read it too. In fact, you'll try and tell everyone about this book whilst reading it, and again afterwards.
There's heart-break, humour, mind-bending plot twists and storylines, confusion, clarity, love… but it's not a love story. It's absolutely impossible. This is the book that will make all Authors envious and wish they'd written it – and all those who aren't Authors too. I wish I'd written it. It's bloody brilliant.
About the Book
Nick: Failed writer. Failed husband. Dog owner.
Bee: Serial dater. Dress maker. Pringles enthusiast.
One day, their paths cross over a misdirected email. The connection is instant, electric. They feel like they've known each other all their lives.
Nick buys a new suit, gets on a train. Bee steps away from her desk, sets off to meet him under the clock at Euston station.
Think you know how the rest of the story goes? They did too . . .
But this is a story with more twists than most. This is Impossible.
Genre: Romance/Contemporary Fiction
Publication: 17th March 2022

About the Author…
Sarah Lotz is a screenwriter and award-winning novelist whose previous work has been translated into over twenty languages. She lives on the Welsh borders with her family and far too many rescue dogs.
Connect with the Author…
Facebook | Instagram | Website
Thanks to the publisher and author for an advanced proof copy of this book.
Are you looking for a Bookish environment to talk all things books? Then look no further than The Fiction Cafe – don't forget to answer the membership questions in order to join. We welcome Authors and Readers and there are lots of exciting happenings in the group! Our Book of the Month Read A Longs happen there too.